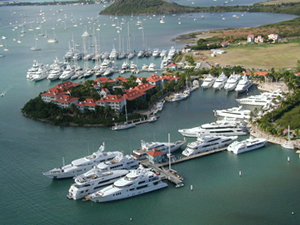 Suntex Marinas has selected Pacsoft NG to operate and control their fast-growing marina and boatyard properties.
Chris Booth, Suntex's VP of Information Technology, stated, "Suntex Marinas selected Pacsoft NG as our software solution because of its innovativeness, the quality-scaled visual view of the marina, the ease of use, and the sophistication of Pacsoft NG. With 19 Marinas and growing, we needed a rapid deployment and centralized IT infrastructure to minimize our support needs."
Suntex elected to deploy Pacsoft using the highly rated VMWare VDI (virtual desktop) infrastructure. This is proving to be highly successful allowing them to meet their target of implementing the management system across their portfolio in time for next year's boating season. In order to do this, they are launching Pacsoft at 2 marina properties per month.
Chris Thomas, Pacsoft CEO, said "We are excited to be working with the skilled and enthusiastic Suntex team and the VMware VDI deployment methodology. Suntex is keen for innovations and will allow us to quickly deploy enhancements in a quick and controlled method."
About Suntex Marinas
Suntex Marinas is a marina management company that currently manages 19 marinas across the United States and Caribbean. Suntex Marinas strives to enhance the customer experience at premier destination marinas. The tools and principles that rank Suntex Marinas among the best in the marina industry include: superior customer service, experienced management and staff, conscious contributions to marina communities, organized administration and accounting, and general enthusiasm for creating memorable experiences on the water.
To find out more about Suntex Marinas please visit: www.suntexmarinas.com.
Suntex Marinas's implementation of Pacsoft NG is being supported by Integrated Business Consultant of Georgia (IBCGA), a business consulting company with over 20 years of experience working with companies to help them become more profitable and efficient. IBCGA forms part of the Global Pacsoft Partner Network and provides the support and implementation of world class marina software in North America.
To find out more about IBCGA please visit: www.ibcga.com.