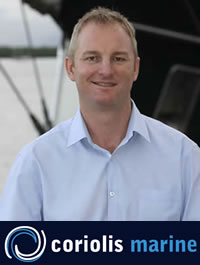 Pacsoft announces the addition of Coriolis Marine Pty Ltd to the PacsoftMMS Global Partner Network, as the Australian agent of its globally successful PacsoftMMS marina, boatyard, vessel service and yacht club business solution.
Coriolis Marine has extensive experience managing and operating marina sites both in Australia and New Zealand using PacsoftMMS management.
"Being able to talk to marina managers and staff in their own language was a key reason to appoint Coriolis Marine as the Australian agent" Chris Thomas PacsoftMMS stated at the time of the announcement. "Brett Bolton, Director of Coriolis Marine, brings a wealth of knowledge and understanding of the marina industry through his development of management systems, mobilisation of new marina sites, and management of diverse marina businesses in Queensland, New South Wales and New Zealand. The appointment of Coriolis Marine will greatly strengthen our ability to service the Australian market and ensure our clients are obtaining the full benefits of the system."
Coriolis Marine has managed marina sites with PacsoftMMS for over seven years and provides full Consulting, Sales, Implementation, Training and Support services. Understanding the complexities of the marina business, Coriolis Marine can provide customised Operating Systems, or integrate existing client systems with PacsoftMMS to improve business and management processes. Providing a full spectrum of business solutions, Coriolis Marine's services include; Marine Industry Training Programmes, Safety & Environmental Management Systems, Business Operating Systems and Manuals, Marina Design, Market Research, Project Management, Risk Management, Auditing and Facility Management.
Coriolis Marine's management experience includes master planning and development processes from small 4 berth Superyacht marinas, to large 1,000 berth facilities including drystack, high volume fuel dispensing, haul-out, boat repair and land based commercial buildings. Having mobilised marina businesses throughout Australia and New Zealand, and established strategic relationships with leading marina system manufacturers, Coriolis Marine provides full "Turn Key" marina development and facility management solutions to the international marketplace.
To find out more about Coriolis Marine please visit: www.coriolismarine.com.